Sixth Form Dress Code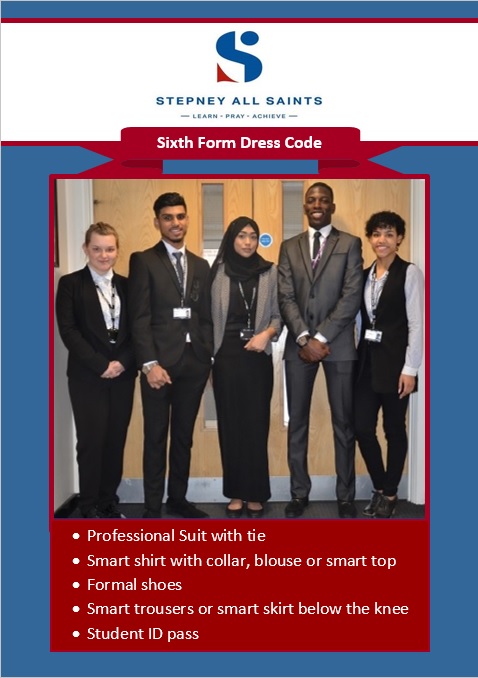 Sixth Form Dress Code Expectations:
Professional suit with tie / bow tie (a tie must be worn with the suit). The suit can be black, brown, grey or blue

Smart shirt with collar or blouse. Shirts with collars and a top button must be accompanied by a tie.

Sensible shoes

Smart trousers or smart skirt below the knee, on the knee and not more than one inch above the knee
Items that are not allowed:
Hats

T-shirts and polo shirts, vest tops or crop tops, t shirt style tops

Jeans, leggings, jeggings or tracksuit bottoms (even if the jeans are black)

Denim jackets

Hoodies or sweatshirts

Shoes should not have a stiletto heel, be trainers or canvas pumps, flip-flops, sandals without a strap around the back and boots with trousers tucked in are not permitted

Black trainers

Mandarin collar style shirts that do not allow for a tie

Large logos are not permitted

Jackets and coats must not be worn inside the school buildings (not beyond reception point)
This list is not exhaustive and the Sixth Form Team may add other items to this list. The final decision about whether an item of clothing is acceptable will be made by the Sixth Form Team.
How you wear the uniform:
Student ID Pass: security and identification purposes, to keep us all safe

School bag (A4 sized to fit books and reports in plus a bottle of water)

Shirts must be tucked in

Shoes should be clean and maintained

A thoub (prayer gown) is welcome but must only be worn during prayer and not before or after that time

No outdoor jackets over the suit, inside the building
Please note that face masks currently form part of the dress code due to the COVID19 pandemic. These must be worn by all students on corridors