Ofsted Report
Stepney All Saints is an Outstanding School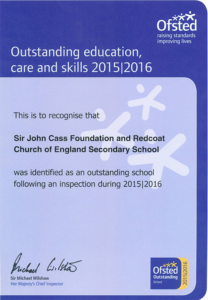 Ofsted Report 2015 – download a copy of our school's Ofsted report (2015)
Click here to view the school's Ofsted reports, directly on the Ofsted website
Headteacher and Chair of Governor Ofsted Report Statement – Read the headteacher and chair of governor statement regarding the recent Ofsted inspection.
Give Ofsted your view on your child's school. Click here to find out how.
Highlights from Stepney All Saint School's Ofsted Report 2015
We are  delighted to share with parents and the Tower  Hamlets community some of the outcomes of the  recent Ofsted inspection of our school. HMI have decided that Stepney All Saints "is an outstanding school".
By way of preparing a digest, school managers have compiled a list of quotes taken directly from the report under the appropriate headings:
Summary of key findings for parents and pupils: "This is an outstanding school"
"The  headteacher,  supported by the other senior leaders, has driven improvement relentlessly to bring about rapid change. At the same time leaders have ensured that high-quality teaching and outstanding achievement have been sustained."
"The governing body knows the school well. It is very supportive but also rigorous in checking and challenging leaders to ensure high quality of welfare and outcomes for pupils."
"Personal development, welfare and behaviour are outstanding. Pupils are extremely enthusiastic about their learning, are keen to achieve well and conduct themselves with great maturity."
"The curriculum is especially well designed so that pupils learn in pathways that are best suited to their needs."
"Pupils' outstanding outcomes are directly attributable to the outstanding quality of teaching, learning and assessment, and progress tracking."
"Teachers plan their lessons exceptionally well so that they build pupils' secure knowledge and understanding in interesting and varied ways. By the end of Year 11, pupils make outstanding progress in English and mathematics and consistently achieve above national averages. Disadvantaged pupils, those with SEN and the most able all achieve exceptionally well."
get_component( 'footer' );